I fell in love with Paris when as a teenager I was watching Audrey Hepburn swan through the ville lumière in the movie "Funny Face".  Over the years I have been so lucky to make many trips to this enchanted city with friends and family.  My trip in late February was the first time I was in Paris by myself with my limited French vocabulary of "Bonjour", "Merci" and "Au Revoir" (which even then I would speak in a whisper so that my Southern accent wouldn't decimate the beauty of the language).
What a magical week it would be. As Audrey said so perfectly, "Paris is always a good idea"!
As I wake up, I have a heavy feeling in my heart as I realize it is my last full day in Paris. After only being here a few days, there is a sense of familiarity and the excitement of what the day will bring. I think about a lovely quote from Ernest Hemingway which rings true, "There are only two places in the world where we can live happy – at home and in Paris".
I have the morning to myself to roam the streets of the 7th and 6th arrondissements. Paris is a wonderfully walkable city and I love the chance to have a long, unstructured walk where I can navigate by curiosity and amble along the cobblestone streets. The pace of life seems conducive to strolling as no one ever seems too rushed. Paris itself is as important as its culture. It is an endlessly revealing, fascinating and rewarding subject. It brims with inspiration and that certain joie de vivre.
A walk punctuated by artistic Parisian doors
One of the things that always inspires me in Paris is the use of color and design elements on doors and the beautiful details on the doorknobs. I use this quiet morning to find some design inspirations. I discover so many doors along my route with such saturated colors from the deepest of reds to the darkest blue. The decorative details on the doors stand out, such as the use of wrought iron grillwork to geometric patterns and decorative elements. I love the idea of incorporating doors into a design aesthetic. When my husband and I recently renovated our apartment, we switched out all the flat, white doors and had new doors made with three square recessed panels and painted in a "Parisian gray" that were inspired by beautiful doors we had seen around Paris on past trips. During my walk, I also notice many elaborate door handles in gold and silver and with intricate designs such as intertwined snakes. It is like walking through an outdoor art gallery as inspiration is everywhere. I am also thrilled to discover a few buildings where plaques indicate famous residents once lived there. I stumble upon a building where Picasso had his studio from 1936-55 and where he painted his famous "Guernica". Balzac also set the plot of his novella "Le Chef d'Oeuvre Inconnu" in this very same building at 7, rue des Grands-Augustins. While photographing a beautiful blue-grayish door, I notice a plaque that states that Manet was born there and that the author Henri Troyat lived there. This is the door with the intertwined snake door handles that I mentioned earlier. One can only imagine them both passing through these doors. I love these little unexpected surprises.
Discovering Atelier Lison De Caunes
I hasten my steps as I am eager to arrive at my last workshop visit – one that I have been looking forward to seeing up close and in person: Lison de Caunes is the embodiment of a true artisan. Her specialty is straw marquetry and she single-handedly resurrected this unique craft after it had gone largely forgotten after World War II. Lison's grandfather, André Groult, the famous interior and furniture designer, brought this 17th century French technique back to life during the Art Déco period of the 1920s. His creations were highly sought after and became the embodiment of Art Déco's use of pattern. In a lovely twist of fate, it was his granddaughter who would bring this special craft back to prominence once again when she started creating her own pieces in the 1980s. We have to thank this family for keeping this craft alive.
A portrait of Lison De Caunes
I step into the design office and was met with bustling activity. Two chic interior designers from Zurich were discussing designs with Lison, Lison's sister, Marie, was creating samples on a worktable and an adorable French bulldog, Ziggy, was keeping everyone entertained. I am warmly greeted by Lison's daughter, Pauline, who is in charge of the atelier's management.
Before I settle in to talk with Lison, Pauline wants to show me the workshops. We step back out into the street with Ziggy hot on our heels (it turns out that Ziggy is Pauline's dog and the unofficial ambassador as he seems to know his way to the workshop). We pass several storefronts and then enter a doorway and step into what feels like "The Secret Garden". The cobblestone courtyard is surrounded by small white buildings with green trim and ivy and greenery everywhere. It is so intimate and cozy that one feels like one is in a magical place.
Straw marquetry – a meticulous process
Pauline tells me that they use rye straw that is grown and harvested by cereal farmers in Burgundy, France.  The farmers dry and dye the straw and then send the bundles to the workshop in Paris. Here the craftsmen and women split open and flatten the straw to prepare them to create the marquetry. When it is flattened, straw looks like pieces of delicate and flexible strips of paper. Straw is sturdy, impermeable and resistant, and the only maintenance required is the use of wax. We walk between the two workshops and I get to see the artisans working on the most exquisite pieces. One woman is creating a coffee table in black straw. The thin pieces are carefully laid down side-by-side. She then uses glue to adhere them to the surface and then runs a tool over the top to flatten them down. Straw marquetry, even though perfectly smooth-surfaced, varies in color even when using only one tone:  You can see the gradients of color and even the outline of each edge of the straw, which gives the overall piece movement and even a textural feel. It almost feels like each strip of straw is the artist's brushstroke, creating a stunning visual effect. It is incredible how versatile colored straw can be. From its natural color, looking like wood, to darker colors that look like metal or even precious jewels, the possibilities are endless. In fact, no varnish is used in the finished product as the straw is protected by silicon which is a natural varnish and gives the straw a wonderful shine to it.  I then watch another artisan make wall panels for a luxury company. Using the natural color of the straw, and with a sun burst pattern motif, each panel glows like gold and has the most luxurious effect. I marvel at how the humble straw can be transformed into the most majestic objets d'art.
The revival of a prestigious "savoir-faire"
As a child, Lison spent time in her grandfather's workshop and discovered the material and technique of straw marquetry. Years later, when she wanted to learn the craft, there was no place that taught this forgotten art. She learned by studying her grandfather's pieces. In her childhood home she was always mesmerized by a big and beautiful straw marquetry screen that her grandfather had made for the Exposition des Arts Décoratifs in 1937. She decided to restore it in her first attempt at straw marquetry and she completely fell in love with the process. This original screen is still in her workshop today. Even though she studied book binding and gilding at The Union Centrale des Arts Décoratifs in Paris, her passion was in straw marquetry so in the 1970s she began restoring straw marquetry pieces given to her by antique dealers. She is entirely self-taught and perfected her craft this way. In the 1980s she began her quest to show that straw marquetry could be a beautiful art form that could meld with contemporary design and interiors, so she started collaborating with interior designers. To date she has worked with such renowned designers such as Jacques Grange, Jean-Louis Deniot, Cabinet Alberto Pinto, Muriel Brandolini, Mathieu Lehanneur and Ernest de la Torre. Peter Marino has commissioned several pieces by her for numerous Louis Vuitton boutiques and for the Guerlain shop in the Champs-Elysées. She has created special pieces for luxury companies including Hermès who commissioned her to reproduce eight silk scarves in straw marquetry to hang in the windows of their rue du Faubourg Saint-Honoré boutique. She still restores historical pieces including a dressing table the Marquis de La Fayette gave to his wife and a Jean-Michel Frank table that belonged to Yves Saint Laurent. Besides making custom pieces, Lison created her personal line in 2015, Lison de Caunes Créations, where she designs furniture, wall panels and interior décor.
We then head back to the design studio, and as Lison finishes up with her clients, I walk over to Marie's work desk and immediately notice she has a photo of Elvis Presley propped against the wall in front of where she creates the sample pieces. I was thrilled to see this and told her that my mother was from a small town in Tennessee about an hour away from Tupelo, Mississippi (Elvis's hometown), and as a teenager she went to the local state fair and saw an "up and coming musician" – and it was Elvis! My mother admitted that she was one of the crazy teenagers screaming with excitement as he performed. Marie loved this story and with my limited French and her limited English the love of Elvis created a lovely connection.
Lison comes over and wants to show me her collection of antique straw marquetry pieces that she has been collecting over the years. She loves to study the patterns and see different techniques which inspires her to push the craft in new and inventive ways. She continues to perfect the craft: she revived the 18th century art of embossed straw and developed a method of gold-leafing straw. She is inspired by everything from nature to movies to things she sees on the street and is always thinking of ways to reproduce it in straw marquetry. She works on every project that comes her way as she loves the challenge and pushing the boundaries and figuring out solutions. In fact, she has covered car interiors and even the interiors of a yacht. She tells me that straw continues to fascinate her and she loves the idea that from such a humble material she can create such refined and luxurious pieces.
"She is inspired by everything from nature to movies to things she sees on the street and is always thinking of ways to reproduce it in straw marquetry."
Discovering the variety of samples
We then look at the wall of samples. Each one looks like a tile and one can see the wide range of shimmering colors, textural effects and exquisite patterns. They almost have a trompe l'oeil effect as some pieces look like metal while others look like wood. Some of the patterns have a three-dimensional look to them, and there is so much movement and vibrancy in them that one forgets it is a flat surface. There is also a beautiful luminosity to them. The straw reflects light in such a magical way. I remember seeing the photos of a project she completed in an apartment in New York City. The entire entrance way, from the walls and the door to the ceiling, was covered in straw marquetry creating a jewel-box like effect that no other material could provide. It makes one realize that walls don't just need to have wallpaper or be painted and have artwork hanging on them. The wall itself becomes the art with the stunning effect of floor to ceiling marquetry.
I am so inspired by the design and technique that I momentarily feel like blurting out "can I be an apprentice here?"  I also think that I will never drive by a field of straw and look at it the same way as I now know what beauty it can yield. I highly recommend watching the video on the homepage of Atelier Lison de Caunes' website. It beautifully demonstrates the care and attention to detail of the farmers and craftsmen who make this humblest of materials come to life as beautiful and ethereal design pieces.
Family history is everywhere. In the workshop several of her grandfather's pieces hang on the wall, which is a wonderful reminder of the tradition that they are helping to carry on. In the design room I ask Lison about a beautiful double portrait done in straw marquetry that hangs over her workbench. She smiles and says that it is a portrait of her grandfather and grandmother that he made in the 1920s.
"She likes that her grandfather is still here watching over the family, and he is a reminder of why she wants to keep this tradition alive."
Lison's greatest satisfaction is knowing that she has preserved the art of straw marquetry and that it won't fall back into oblivion. When she first began over 40 years ago, no one was working in straw marquetry. Now it is taught at the Ecole Boulle in Paris, and Lison is passing her knowledge on to the next generation through the artisans in her workshop. There is great comfort knowing that this art will live on. She is a master craftswoman and because of this, was awarded the title of Maître d'Art in 1996. This highly distinguished and prestigious title is awarded by the Ministry of Culture to exceptional craftsmen only, who possess a rare savoir-faire and who commit to passing it on to an apprentice. Lison said that was a turning point for her because her craft would have a future. In 2010, she was awarded the Chevalière de la Légion d'Honneur, France's highest honor. For me, Lison is part of the artistic heritage of France. She saved this lost craft and made it chic again.
As I leave the design office, I think about how lovely it is to see another workshop where family is at the heart of the company, just like with our other Par Excellence artisans – Declercq Passementiers, Jouffre and Atelier de Ricou. They continue to carry on the legacies and traditions that will be passed on to generations to come.
An afternoon at Galerie Epoca
I dash back to the 7th to meet my friend Maïk, as she is taking me somewhere that will be an unexpected surprise. I make my way to Galerie Epoca at 60, rue de Verneuil, a place that is described as an antique and modern art gallery.  But when I step through the doors, I feel like I went through Alice in Wonderland's Looking Glass. It is the most incredible shop of curiosities, with fantastical tableaux everywhere my eye wanders. I feel like Salvador Dalí was just in and had done a bit of re-arranging. Maïk introduces me to the owner, Mony Linz-Einstein (yes, that Einstein! She is Albert Einstein's great-grand niece). She enthusiastically bounds around showing me one object after another. She has a passion for unusual and intriguing objects. There is a dining table with a glass top and beautiful drawings underneath. She starts to crank a handle and the drawings move from flora to animals and all sorts of natural studies and patterns. I love this idea that one can change the table-top design at one's whim. She then shows me a black rocking chair that looks normal at first but then I notice that the "feet" are those of an elk. It is a rare piece and was made in Sweden in the 18th century. She also has a sofa and pair of chairs that were once owned by a Maharadjah. I see wooden chairs hanging from the ceiling in a fantastical presentation and a white plaster frame with objects sprouting out from the edges. It is like a chamber of the marvelous and it is a very magical world to explore.
A goodbye dinner at Le Bistrot de Paris
After saying our goodbyes, Maïk and I walk over to 33, rue de Lille for dinner at Le Bistrot de Paris. It looks so familiar and then I realize it is the same restaurant that my friends Jean-Louis and Aude took me to for lunch a few days earlier. We walk in and everyone greets us enthusiastically, and as they know Maïk they escort us to her "usual table" in the back corner of the restaurant. It turns out that Maïk has been coming here for years and her children practically grew up here. When I was having lunch with Jean-Louis and Aude, the restaurant was filled with art and antique dealers from the neighborhood as several stopped by to say hello and have a chat. During that lunch, the father of my French friend (who lives in NYC), who owns an antique gallery down the street, was having lunch there too and it was a wonderful surprise to run into him there. It turns out that he goes there every day for lunch. Le Bistrot de Paris opened in 1965 and since then has been the gathering spot for the artistic types. Serge Gainsbourg, whose home was a few steps away, was a regular and apparently ate his last meal there. He liked to sit at the same table every time he ate there. Tonight, the room was filled with Parisians from romantic dates to large groups of family and friends enjoying the lively atmosphere. With so many local "regulars", this spot is a true Parisian bistro. Woody Allen could have easily filmed a scene here for his movie "Midnight in Paris". After a wonderfully long evening filled with wine, steak frites, a delicious dessert of poached pears with chocolate and jovial conversations with the waiters, I didn't want the night to end as that meant my week in Paris was coming to a close. Instead of walking the few blocks to my hotel, Maïk offered me a ride back in her Mini. We zipped through the narrow streets of the 7th and I arrived back at Le Saint Hotel where the dreaded packing awaited.
"Adieu Paris"
The next morning, I reluctantly drag myself out of bed as I have to dash off to the airport. During my week in Paris, I so wanted to see Notre-Dame as it felt like a wounded friend after its devastating fire almost a year ago. I ask my taxi driver if we could do a detour on the way to the airport so that we could drive by the Cathedral. From the window of the car my heart sank when I saw the scaffolding. I was relieved to see the two bell towers still standing but I was so sad to see the roof and spire missing. I remember so vividly watching the blaze on TV and felt a universal cry of anguish when the 19th century spire fell.  This over 800 year-old Cathedral is an iconic monument of Gothic art and a global architectural heritage for all. Now it seems like an elderly friend who has survived catastrophic injury. But Notre-Dame still stands and I know it will be rebuilt to its former glory. It was the most important construction of medieval Europe and will be the most important reconstruction of modern times. I truly hope that Ateliers Saint-Jacques whom I visited earlier in the week will be a part of this monumental and extraordinary task. As with the guilds used to build it in the 12th century, today the same type of guild exists with the exceptional craftspeople that make up Ateliers Saint-Jacques from stone masons to iron and wood workers. Victor Hugo once said that Notre-Dame is an expression of French art centuries in the making. How true, as the 21st century artisans take their turn in nursing her back to her wholeness.  As the taxi driver changes courses for the airport, I gaze out the window and bid adieu to this magical city that I love.
Postscript:
While I was in Paris during the last week of February, Italy was going into lockdown because of COVID-19. We would talk about the virus during my many visits around the city and there was a slight uneasiness as the city was in the midst of Paris fashion week and the fashion crowd had just arrived from Milan. I returned home to Brooklyn on March 1st and could feel the tidal wave of the virus coming. 4 days later I started quarantining early as a precaution and within about 10 days flights between Europe and the US were shut down. I reached out to everyone I had met on my travels to see how they were doing. I received kind words from Margot whom I had spent time with at Declercq Passementiers. She said, "It will be a hard period but our grandfathers survived before, so we will too. We have to be strong and healthy". These positive and resilient words gave me comfort in what was to come.
📸  by Jennifer Gyr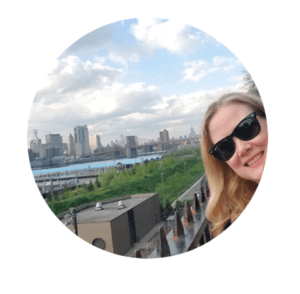 Jennifer Gyr is a Creative Consultant at Par Excellence. After obtaining a degree in Art History and Photography, she was a Helena Rubenstein Intern at MoMA in NYC and she completed the "Works of Art" course at Sotheby's in London. She then worked for several years at the photography gallery Hamiltons Gallery in London and at Hyperion Press and Keith de Lellis Gallery in NYC. She was a private photography dealer for many years and served as an archivist and curator of a private photography collection in NYC. She also archived the estate of the photographer Horst P. Horst. She has curated several exhibitions and consulted on numerous photo books and exhibitions including with The National Portrait Gallery in London. When not seeking her next travel inspiration she lives in Brooklyn with her Swiss husband.