I fell in love with Paris when as a teenager I was watching Audrey Hepburn swan through the ville lumière in the movie "Funny Face".  Over the years I have been so lucky to make many trips to this enchanted city with friends and family.  My trip in late February was the first time I was in Paris by myself with my limited French vocabulary of "Bonjour", "Merci" and "Au Revoir" (which even then I would speak in a whisper so that my Southern accent wouldn't decimate the beauty of the language).
What a magical week it would be. As Audrey said so perfectly, "Paris is always a good idea"!
Today I am off to see another one of our partners, Declercq Passementiers. I am so looking forward to meeting Margot Declercq, who represents the 7th generation of this family and works closely with her father Jerome. The company has been designing and making trimmings and tassels in Paris since 1852. You must go onto their website to see their family tree: It is a testament to a long-standing tradition of passing on their passion, knowledge, artistry and technique through generations.
JEROME DECLERCQ BY ©FRANCOIS DOURY
A trip through time and history with Declercq Passementiers 
Margot, who is in her late 20s, shows me around her beautiful showroom that is filled floor to ceiling with so many exquisite trimmings and tassels. My eye immediately falls upon two large wooden looms that look like they belong in a museum. I ask about them and Margot jumps on one to show me how it works (the machines are from the late 1800s and are in amazing working condition). The first one requires her to lean forward in a harness, so that she is almost hanging above the threading apparatus. While pushing wooden pedals with her feet, she weaves five different shuttles back and forth between two ribbons to create an intricate pattern along the ribbon. While leaning forward in the harness, stepping down on the pedals to tighten the ribbons between each pass and counting the pattern steps in just a few minutes, she nimbly creates what looks like woven gold into the most beautifully intricate design.  I am spell-bound by the process. This not only takes patience and hand-eye coordination, but the right know-how to not miss a beat and to visualize the pattern playing out, as there were neither pattern books nor notes in sight. We then turned to the second 19th century wooden machine. This one is even taller and almost reaches the ceiling. It is fully automated. When Margot turns it on, watching the mechanical gears and cranks moving, and hearing the clanking sound, makes me feel like we are in Thomas Edison's lab and are turning on the machine that will light the first bulb. Once again, I am amazed to see how the rows of individual different colored threads are being woven into yet another intricate design and turning it into a trimming for a curtain or a piece of furniture
We start discussing how they have to prepare the material before they can even start weaving, from dying the materials to spooling the thread. They even have to hand twist some threads to create the decorative braid that will then be used in the weaving process. Some of the materials are placed on the mechanical looms to create the ribbons and braids, while others are hand-woven to create the complex velvet ribbons, braids and fringes. Margot then shows me a large tassel and I could see the various stages of craftsmanship where everything was done mostly by hand. You really start to think about how design objects are made and who makes them – the artisan at work, years of practice, precision, know-how, passion and dedication. She mentioned that a lot of their employees have worked there 20, 30 and even 40+ years. They create braids, fringes, tassels, rosettes and many other beautiful shapes. It is like making jewels out of thread.
"You really start to think about how design objects are made and who makes them – the artisan at work, years of practice, precision, know-how, passion and dedication"
Speaking of jewels, the next thing I will be seeing is one of the highlights of my trip to Paris. We proceed to a wall of tall wooden glass front cabinets and inside I see the most delicate and refined group of tassels and trimmings, and they belonged to… Marie Antoinette! I feel a sense of awe seeing the light pastel colors and delicate trimmings, which encapsulate her sense of style and personality. I could even imagine her wearing some of the rosettes and fringe pieces in her hair, around her neck or adorning her dresses besides her furniture and curtains and bed. There is even a bouquet of flowers made out of fringes and an extremely delicate looking woven basket with light pink flowers and greenery scattered all around. It looks like a lovely bird's nest that fell on the forest ground and flowers started growing on it. Do we even think about such detail and artistry when we buy things in our times? Their imagination was so fertile. I then looked at the next cabinet and it felt like a trumpet started playing and everything got bigger and bolder and more masculine and imperial: I was now looking at tassels that were made for Napoleon personally. In 1972, Declercq acquired a very old trimmings company from the 18th century, which included the archives of Marie Antoinette, Napoleon and Louis XVI, as well as old pattern books, which they now have on their library shelves. Louis XVI's and Napoleon's were impressive to see, but Marie Antoinette's really made a lasting impression on me. Margot pointed out a trim that belonged to her, and again it had the most delicate, small flowers, bows and greenery tumbling off of a pale, woven ribbon. She told me that recently a Japanese couple asked Declercq to recreate this trim, and they used it all over their bedroom as they wanted to feel like Marie Antoinette. We then passed by a mannequin that they had adorned with a makeshift dress made of tassels and trimmings and it got me thinking that this beautiful craft doesn't have to be just for your home. Let your imagination carry you away.
As I was leaving and saying my goodbyes, a large piece of trim hanging near the door caught my eye.  Purple is my favorite color, and I loved how regal it looked so I asked her about it. Margot gave me a big smile and said, "My father designed it and he named it after me". The family legacy lives on.
A lovely stop at Buly 1803
I headed back to the 6th and 7th to visit two of my favorite stores that I always go to every time I am in Paris.
I walk across the Pont Neuf and enter another world at l'Officine Universelle Buly (also known as Buly 1803) on Rue Bonaparte in the 6th. This is one of the most unique beauty boutiques in Paris (and perhaps the world). Their products, packaging, store design, history and even the store clerks make this such a special experience. I open the large glass door and am immediately transported back in time to an 18th century apothecary and I feel like I have stepped into a Visconti meets Wes Anderson film. There is such attention to detail from the grand noble wooden cabinets filled with the most beautiful array of lotions and potions flanked by rich marble countertops where you can sample the products. I walk over the worn blue-green tiles with the Buly "coat of arms" and feel like I am walking in an old Italian palazzo. The company began over 200 years ago and had trend-setting formulations. Sadly, it had faded away but thankfully was revived a few years ago with new owners. The salesclerks all wear black skirts and tights and black sweaters over a stiff white shirt. A salesclerk graciously greets you upon your arrival and stays with you and gives you all of her attention during the sampling, selecting and buying. My lovely salesclerk had the perfect black bob and red lipstick. Tres chic. The soaps, lotions and perfumes have the most intoxicating, decadent and alluring scents. It was so hard to pick one so I settled on "Rose" and bought several as gifts.
Then the fun really begins as one becomes their own designer in picking out all the details. The clerk swiftly disappears to imprint the initials in gold or silver of each recipient of the soaps. I am then presented with a large album to select a vintage label to adorn the soap boxes that are then intricately wrapped in exquisite paper. The most beguiling prospect of the entire event is the final detail. An in-store calligrapher sits at a beautifully appointed desk with an inkwell and quill and in front of you delicately writes each name of the recipient of each gift. I even had to buy one for myself just to have this special and unique objets d'art. This is not a shop to come to in a hurry. Instead, you will revel in the act of slowing down and enjoying every moment there.
Inside Karl Lagerfeld's Bookstore
My final stop of the day is what I consider my "candy store" as I can never leave with just one item. The celebrated fashion designer, Karl Lagerfeld, opened a bookstore, 7L Bookshop, in 1999 on Rue de Lille right across the street from my friends' 1831 Art Gallery, in the heart of Carre Rive Gauche. As Karl once said, "I have a fatal attraction for books. A disease I don't want to be cured of…I could not live without them". I, too, suffer from this "disease". The bookstore has a fascinating selection, ranging from photography, design, interior design and architecture to fashion, jewelry, textiles, gardens and cookbooks. They also have catalogs on international exhibitions (which can be hard to find) and several books written and edited by Karl himself. I feel like it is a "book museum" as I am always learning and being introduced to a broad range of topics. Karl was legendary in his book buying sprees.
A SELECTION OF BOOKS AT 7L BOOSKSHOP
"I have a fatal attraction for books. A disease I don't want to be cured of…I could not live without them" – Karl Lagerfeld
About 20 years ago, I was at Rizzoli's bookstore at its old location on 57th Street in NYC. I was standing in the photography section on the skinny 2nd floor mezzanine when I saw a flurry of activity right next to me. There was Karl Lagerfeld taking book after book from the shelves and placing them in an ever-growing pile in the arms of his strong assistant. I was trying to emulate this master at his very own bookstore but had to limit myself to 5 books as there was only enough space in my suitcase.
Karl's personal book collection numbered well over 300,000 volumes. And the majority of those books were in his private library behind the door in the back of this bookshop. Oh, how I would have loved to have gone through that door to see the double height studio packed floor to ceiling (and 2 floors) with books. He even built bookcases over every door to house more books. This is something I also did in my small Brooklyn apartment. You have to use space where you can find it. Legend has it that he stacked his books horizontally rather than vertically so that he didn't have to tilt his head sideways to read the titles. He had a sofa that went on for practically the length of the room and an equally long coffee table to match filled with magazines from around the world. Come to think of it, I should have snuck into the library so that I could happily stay there during the quarantine. Don't they say that "books feed the soul"? I would have been set. Sadly, Karl died a year ago and his estate is still being sorted out. Apparently, he was so keen of living in the moment that he made no plans for the future of his estate. I join the growing chorus of voices asking that this special place be turned into a research library so that this cornucopia of art and design tomes can be enjoyed by all.
KARL LAGERFELD'S PERSONAL LIBRARY
After once again closing down a store (this seems to be a recurring theme for me) I head back to my hotel to read a book before falling asleep and thinking, "When I die, I want to go to Karl Lagerfeld's library".
To be continued … à suivre….et à bientôt!
📸  by Jennifer Gyr
     Featured image: Antonio Luce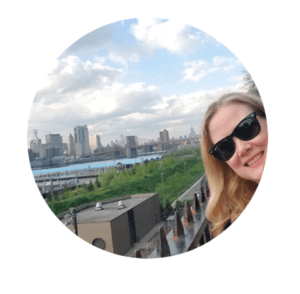 Jennifer Gyr is a Creative Consultant at Par Excellence. After obtaining a degree in Art History and Photography, she was a Helena Rubenstein Intern at MoMA in NYC and she completed the "Works of Art" course at Sotheby's in London. She then worked for several years at the photography gallery Hamiltons Gallery in London and at Hyperion Press and Keith de Lellis Gallery in NYC. She was a private photography dealer for many years and served as an archivist and curator of a private photography collection in NYC. She also archived the estate of the photographer Horst P. Horst. She has curated several exhibitions and consulted on numerous photo books and exhibitions including with The National Portrait Gallery in London. When not seeking her next travel inspiration she lives in Brooklyn with her Swiss husband.