Etienne Gounot and Eric Jähnke, two former industrial engineers, created together the company Ozone in 2000. Their concept is based on close collaboration with architects and private individuals to find the perfect lighting. Ozone creates its own lights: chandeliers, ceiling lights, suspensions etc. And some of their products are signed by Michel Boyer, Jean-Michel Wilmotte, Joseph Dirand, Pierre Paulin, Régis Botta and more recently Glenn Sestig. Their products combine Parisian artisan tradition with the latest LED lighting technologies which makes them so unique.
A few years ago Ozone joined the Par Excellence collective in NYC. Thanks to this, we often have a glimpse at Etienne Gounot's poetic universe. We decided to dive deeper to understand his inspirations and the way he perceives the world around him through a series of photos.
You seem to take a lot of pictures and videos that we can sometimes find on Ozone's Instagram account. This help us to have a glimpse at your daily inspirations and obviously light, colors, shadow, highlights and reflections are in the spotlight.
Yes I enjoy taking pictures both professionally and in my daily life. Photography captures light. Light reveals space and forms. The link between photography, light and design is strong. However light is immaterial, it always ripes from the vision of the photographer. I felt in this endless pursuit of light. I also use pictures as memories of particular moments when I feel a special atmosphere, a deep connection with myself and the environment.
Social medias only fit to a certain category of pictures due to the small screen sizes and the very quick « consumption » by the spectator. The two have selected are more destined to large prints.
Could you describe 2 or 3 of your favorite pictures you have taken in your life?
I love Nature in black and white. I find green not renders so well on pictures. When transformed into grey, it evokes stone or metal. In this picture I love the misty atmosphere of Réunion Island and the mystic light pouring from above.
The second picture is shot during my favorite period of the year, my summer vacations in Greece.  The sunsets are gorgeous there. Accidentally the camera did not focus, producing an attracting blur effect, like a dream of light.
Where does this desire to design and create comes from?
I think the majority of people have a desire to create, design and craft. In our world of increasing virtuality, technology and standardized consumption, we feel a growing separateness between us and the world, which sometimes arouses loneliness and despair. The connection to the materiality, the expression of ourself, the production of something real that we can see and touch fills this gap. Self-esteem and meaning of life are then restored.
But few decide and succeed to live on it. We decided with Eric to live on our creation when we started Ozone 20 years ago. From a handmade table lamp that gave me my first emotion, we have developed a complete design, collection and manufacturing project.
What is one of your favorite Ozone's creation? Could you describe it with your own words and explain why you chose this one?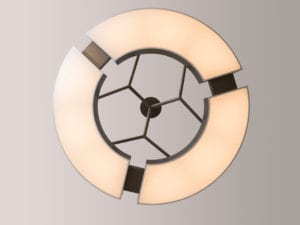 Classique V is one of my favorite creation. It is real creation à deux, reflecting both personalities of Eric and me. As a result, it blends in almost every interiors, from a classic heritage to a modernist or minimal apartment. The bold ring contrasts nicely with the organic hanging branches. The delicate paper shade matches well with the sharp polished metal. And the diffused warm light is divine.
Tell us about a view that you can't get enough of, that strikes you every time?
The perspectives I can catch at the Palais Royal in Paris are striking. It is almost abstract, focus points can hardly be seen. Light through the columns is always changing and plays with them in a spellbinding rhythm. I also feel a strong historical background there.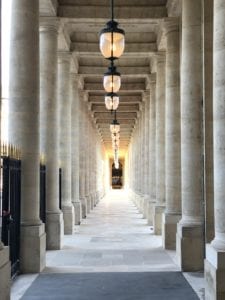 What is the project you are the proudest of and what would be your dream project?
Monsieur Bleu may be the project of which I am the proudest. It is the synthesis of our link to the past with Michel Boyer, to the present with Joseph Dirand, and to our philosophy of lighting a space: Ultra warm light diffused by large shades, producing sunset-like feeling. It is now an iconic place.
As for a dream, I look forward to collaborating in such project in NYC!
What is the artwork you own that you are most proud of?
I am not particularly proud of possessing some artworks. They just help me to live.
Can you disclose something about yourself that might surprise us?
I do not really like objects. My dream space is almost empty. Spirituality is for me above materialism. But I am not sure it surprises you.
Can you talk about your collaboration with Glenn Sestig and your recent work on the Tennessee collection?
At the first meeting with us, 10 years ago, Glenn immediately appreciated the geometric style and the high quality of our lights. Since then, he has collaborated with Ozone on several residential projects in Europe.
In 2019 the idea of developing a new collection for Ozone was born. It will be called Tennessee as a tribute to great outdoors, cult American music and Tennessee Williams. After Michel Boyer, Joseph Dirand, Régis Botta, Jean-Michel Wilmotte, Pierre Paulin, Eric and me, Glenn Sestig joined the Ozone designer team!
The new Tennessee collection gives shape to Glenn Sestig's passion for light, rhythm and refined finishes. Combining force and sophistication, the lights are designed to fit seamlessly to his projects. The soft, round paper shade contrasts well with the rigorous construction of the fixture.  It embeds a warm and efficient light studied by Ozone. Available in 8 models of wall lights and pendant lights, the collection is architectural and decorative at the same time. The arrangement of identical light modules brings rhythm and warmth to the space. The models are available in bronze and gunmetal finishes.
Glenn Sestig has built his collection on Ozone's renowned expertise in fine lighting and careful manufacturing.
Dive into Etienne Gounot's universe through Ozone's instagram account 
Discover Ozone's products and projects here