I fell in love with Paris when as a teenager I was watching Audrey Hepburn swan through the ville lumière in the movie "Funny Face".  Over the years I have been so lucky to make many trips to this enchanted city with friends and family.  My trip in late February was the first time I was in Paris by myself with my limited French vocabulary of "Bonjour", "Merci" and "Au Revoir" (which even then I would speak in a whisper so that my Southern accent wouldn't decimate the beauty of the language).
What a magical week it would be. As Audrey said so perfectly, "Paris is always a good idea"!
A visit to Ozone's workshop:
It is a rainy morning and as my Uber slowly winds its way through the clogged streets of the morning rush hour, I make my way to the Marais. I was so looking forward to meeting Etienne Gounot and his team at Ozone, a contemporary lighting design company. As I walked through the narrow entryway that led me to an interior courtyard, I could see the workshop nestled in the back. I was warmly greeted by Etienne and he immediately offered me a homemade canelé that was made for a colleague's birthday that day. Dessert at 9:30 am. I love France! We settled into a corner table and for the next hour we poured through their latest catalog. I was entranced by all of the beautiful lighting designs they made over the years. Etienne and his co-founder, Eric Jähnke, were industrial engineers and met while working together. A friendship quickly formed over their love of lighting design and in 2000 they created Ozone. They work closely with architects, interior designers and private clients to create the perfect lighting for each project. They combine traditional French high-end craftsmanship with the latest in LED technology. Their designs range from classic to modernist and minimal.
Eric Jähnke & Etienne Gounot
I am immediately struck by the "Parisienne Opéra" chandelier, which looked like the iconic Parisian streetlamps. Etienne smiled and said that the designer, the architect Régis Botta, was inspired by a nocturnal walk under the streetlights of Paris. The name of the collection was perfect. Paris was the world's first city to use electric lighting on the avenue de l'Opéra in 1878. The glass domes resembled the lantern part of the streetlights, and the chandelier could feel like dots of lights floating above you reminding you of Paris, the City of Light.
The next project that stopped me dead in my tracks was a project they did for the Elie Saab flagship store in London. They created a dramatic three-story cubist metal structure with light boxes fitted throughout. This monumental light sculpture soars from the ground floor up through the center space of a grand circular staircase lighting one's path along the way. They seem to sculpt with light. What is so astonishing is that you don't see the light source. They seem to have harnessed the light and it glows from within. Etienne and Eric are engineers by training but their love of art shows through in their work. They are engineers and artisans combining science with art and creating a poetic universe.
Etienne loves taking photographs as it allows him to capture light in all its forms. Light creates a special atmosphere. One can see that shadow and light interactions are important, because a world without shadows is flat. Etienne thinks that the most beautiful light comes at sunrise. This shows through in Ozone's work as all of their lighting is warm and diffused, never harsh. It feels as if they have captured the glow of the sun, as you can see so sublimely in their "Line L200" wall lamp that was designed by Etienne and Eric. Using an aluminum structure, they wrapped the light with a soft diffusion material evoking a Japanese design. This diffused light is meditative and serene, making the large light fixture appear weightless as if it could float into the air if it was not anchored to the wall. Etienne is inspired by Japanese aesthetics as he developed a deep love of this art when he lived in Asia for several years early in his career. Looking at this collection reminds me of a wonderful Victor Hugo quote, "To see beauty is to see light".
"Light creates a special atmosphere. One can see that shadow and light interactions are important, because a world without shadows is flat."
We then started discussing one of my favorite projects, the Monsieur Bleu restaurant at the Palais de Tokyo in Paris. In 2013, the French architect, Joseph Dirand, designed the space and collaborated with Ozone on the "Joseph Dirand Gelule Wall Lamp". This oblong metal sconce looks like it is hovering in front of the wall, and it seems that the light emanating from behind is holding it in place, showing that light is powerful and strong. It has a futuristic quality about it. Joseph also included in the restaurant Ozone's re-issued "Brasilia" chandeliers that were designed by Michel Boyer in the 1970s. This chandelier had been originally designed for the French Embassy in Brazil. These ethereal lamps seem to float in mid-air. All of the lighting used is indirect to avoid casting shadows and it creates an inviting and flattering atmosphere for the diners. I love the use of the vintage design of the Brasilia chandeliers with the contemporary design of the Gelule wall lamps to seamlessly combine the past with the present in a timeless interior.
We then take a tour around the workshop. All of Ozone's lighting pieces are designed and made by hand in Paris and assembled in their intimate workshop (the metal pieces are manufactured in nearby metal workshops). Metal framework for a new design just arrived and I watched them open up the packages to see the design for the first time. Large, round metal circles of varying sizes appeared one after another. This is part of a chandelier design they created for a private residence in France. As it is for a private client, no photos were allowed but I did see the drawing and was awed by another creative way of showcasing light in a way I had never seen before. Etienne's two colleagues started assembling the metal pieces and preparing them for the LED panels. I saw them but was sworn to secrecy as their lighting configuration was top secret (not that I could spill any secrets anyway, as it was beyond my comprehension). To me that is the magic of seeing this process. The end result is so beautiful that one forgets that there is masterful technology and extremely sophisticated engineering behind the creation. All of the electrical parts and tools are organized perfectly around the workshop and one can see that these magicians take great pride in their work.
As I am about to leave, Etienne surprises me with a sneak preview of their latest collection that will be released in a few weeks. Etienne and Eric design many of the pieces themselves but they also have a series where they collaborate on collections with architects and designers such as Joseph Dirand, Jean-Michel Wilmotte and Régis Botta. This newest collection is designed by Glenn Sestig and is called "Tennessee". I told Etienne that it was such a wonderful coincidence that this was the title as my mother is from Tennessee. It is called Tennessee as a tribute to the great outdoors, cult American music and Tennessee Williams. This collection has a beautiful combination of architectural and decorative elements with the soft, round paper shades morphing into the strong metal framework. I love how a Belgian designer collaborates with a French company to produce a collection inspired by an American idea.
As I walk out into the courtyard and make my way back to the street, I think about how important light is in any architectural and interior projects. Light is one of the most important elements of any room. How wonderful that Ozone is based in the heart of the City of Light.
On a side note, I highly recommend looking at Ozone's Instagram account. They are always including inspirational photos of the changing nature of light and capturing light in its infinite ways. I sent a thank you text to Etienne the next day and he responded with a lovely note that included a quick video of the Eiffel Tower's shimmering light show just as the sun was setting. It was twinkling like stars and he captured the magic of light exactly how he imagines it with what he and his colleagues create at Ozone.
A stroll through the Marais:
I had the rest of the afternoon off, and I did what I love to do when traveling. Using Google Maps, I plugged in my final destination (an art gallery about 15 minutes away from Ozone) and started meandering through the streets, not knowing where I was going but discovering interesting things along the way. I would turn down a street on a whim knowing that Google Maps was watching over me and would never let me become entirely "lost". I decided to take a skinny pedestrian street that connected two larger streets. I then saw something before me that for a moment made me feel like I was in "Les Misérables" (it was fresh in my mind as before my trip I watched my friend's daughter perform in that play). Right in front of me and practically filling the entire width of the street was a large wooden "barricade". I then thought that perhaps it was "street art" but I quickly noticed that it was actually holding up the bulging wall. I filled my exercise quota in 30 seconds by sprinting as fast as I could past the tension filled assemblage. This burst of adrenaline was soon replaced by a soothing ahhh as I turned onto a different street and could see that every doorway had flowering hearts and lovely sayings painted onto the wooden doors. I love these constant surprises. As someone who lives in a big city and when I see so many people walking around town with their noses buried in their phones, I always think to myself, "look up" as you will see so many inspiring things. Around the corner I passed a shop with the most beautiful shop window. At Muskhane, the windows were filled with whimsical items all made of felt. As a matter of fact, the entire store is filled only with decorative felt objects.
I then reached my final destination, the photography gallery, La Galerie de l'Instant on Rue de Poitou in the 3rd arrondissement. I wanted to see their current exhibition of photographs of Jane Birkin from the late 60s/early 70s. The photographs were taken by her brother Andrew Birkin and the photographer Tony Frank and they capture Jane in candid and unique moments in her life. I was especially drawn to those that included her great love Serge Gainsbourg especially after recently seeing the home they shared in the 7th. Downstairs in the stone basement they had an exhibition highlighting other photographers they represented and I saw beautiful images of Kate Moss and Marilyn Monroe among many others. I had the gallery to myself and I was able to quietly linger and enjoy seeing many classic images and discovering new ones.
I then headed back to Le Saint, my hotel on the Left Bank, and settled into the sofa in the living room of the hotel. In front of a roaring fire, I had a wonderful dinner and started planning my excursions for the next day. Halfway through my meal, an elegant elderly gentleman arrived and sat down in the chair next to the fireplace. He pulled out a cashmere blanket from his bag and wrapped it around his lap covering his legs. It was late February so sitting by the fire was a wonderful way to end the day. He pulled out a book and started reading and right on cue the waiter appeared with a cup of hot chocolate that he placed by his chair even though I never saw him place an order. We started chatting and it turns out he lives in the neighborhood but he is a regular at the hotel enjoying a few quiet moments relaxing by the fire and reading. I notice this in NYC too – so many hotels now are so comfortable and welcoming that they become an extension of one's small apartment in the big city. I do that myself when I find time. The Bowery Hotel is located across the street from our offices at Par Excellence. Sometimes before or after a meeting I will venture down to the hotel for a cup of tea by the fire or will meet a friend to catch up. Suddenly, being at this hotel in Paris sitting by the fire felt a bit like home.
Having dinner by the fireplace at Le Saint Hotel
To be continued … à suivre….et à bientôt!
📸  by Jennifer Gyr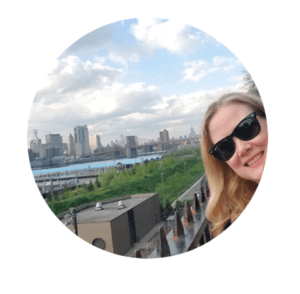 Jennifer Gyr is a Creative Consultant at Par Excellence. After obtaining a degree in Art History and Photography, she was a Helena Rubenstein Intern at MoMA in NYC and she completed the "Works of Art" course at Sotheby's in London. She then worked for several years at the photography gallery Hamiltons Gallery in London and at Hyperion Press and Keith de Lellis Gallery in NYC. She was a private photography dealer for many years and served as an archivist and curator of a private photography collection in NYC. She also archived the estate of the photographer Horst P. Horst. She has curated several exhibitions and consulted on numerous photo books and exhibitions including with The National Portrait Gallery in London. When not seeking her next travel inspiration she lives in Brooklyn with her Swiss husband.