I first met the French-American artist Joyce Billet through mutual friends over a long leisurely lunch. I was immediately intrigued by Joyce's story of how she segued from being an architect to becoming an artist. Born and raised in Paris, she went to university in New York and graduated from Pratt Institute with a Bachelor's in Architecture, and in 2010 she received a Master of Science degree in Advanced Architectural Design from Columbia University. She then went on to work at prestigious firms such as Norman Foster in London and Studio Daniel Libeskind in New York. But it was when she started working as an in-house architectural designer at Chanel that she realized she wanted to find her own voice in the arts. In mid-February 2020, I visited her studio in Long Island City not knowing that would be my last exposure to art in person before the world went upside down. I fell in love with her work as I was immediately struck by her process. She hand-paints monochromatic brushstrokes on a canvas and then translates them into a computer-generated format so that they can be laser-cut and etched by a machine. The results are striking. The lines are blurred between painting and sculpture, analog and digital and between the artist's hand and a computer-generated work of art. Using modern technology, her chisel is now a laser cutter.
In her series "Paper" and "Decay" one especially sees the effect of the gentle hand of the artist that is then burned with a laser-cut revealing the stress and destruction of the material. Throughout her work, she explores this tension and duality between the natural and the artificial, between the unique and mass produced, between tradition and progress. Her background in architecture has influenced her work as she plays with materials and scale to mix the sensations of painting and sculpture.
At the start of the pandemic, Joyce and her family moved from New York City to Miami where she spent her teenage years. During that first lunch together 1 ½ years ago, we immediately bonded as I, too, grew up in Florida. We both agreed that when we are in Florida we are taken by the vast open sky and spaces. Now that she is living there full time, this openness has inspired her to go back to her old work and make them on a bigger scale such as the series "Rising".
I recently caught up with Joyce over FaceTime to find out her thoughts about living in Miami vs New York City, her art influences and what is inspiring to her.
Why did you transition from being an architect to becoming an artist?
Artists are architects and vice versa. They are connected, and I believe it is only a matter of approach. I felt that being a visual artist would allow me more freedom for creativity and having the time to explore my own interests at any scale possible. Architecture is present throughout my work and it has a strong influence on every piece. I do feel the concepts I develop in my practice will be able to live at a larger scale as furniture or public art pieces as well.
Is there a new project or series that you are currently working on?
There are always a few things I am currently working on. One of them being to explore some of my textural works for surface treatment, that could serve as a paneled textured art piece to be presented in larger areas.
During the pandemic I developed a series called "Fragmented Reality" which was shown in a group exhibition at the Missoni showroom during Miami Art Week last December. This series explores the surreal event of 2020 that has led us to live fragmented lives; in fragmented locations; and at fragmented times. We have only been offering a glimpse of ourselves to the outside world when we venture out, physically or virtually, with masks, fake or blurred backgrounds on Zoom. "Fragmented Reality" is a physical expression of this new normal, showing us our fragmented selves in reflection. Each of the 6 panels has a different pattern of abstract forms and work in pairs, one has the positive space as dimensional reflective surfaces and the other has the mirror image with the negative space as the reflective element. These effects capture frames that edit surroundings and self-reflections by superimposing abstract surfaces and creating a fragmented vision. As viewers engage directly with their surroundings and walk among the works, they are met with sculpted mirror elements in abstract forms that merge with the human figure. I am working on developing this series as a public art project that would be larger scale for the public to interact with.
At Par Excellence, craftsmanship is at the heart of our heritage. With your work, how important is the idea of craftsmanship?

Craftsmanship is a huge part of my work and I admire all the craftsmen that Par Excellence represents. The definition of craft needs to constantly evolve to integrate technology. The human mind can still think and produce the desired results but they can now be driven through new processes. I believe there is an opportunity now, as ever, for craft to continue to evolve by being pushed and tested with the ever-expanding toolkit available today. Many artists and craftsmen are already doing so in their practice and we must continue to explore it. Craftsmanship requires respect and mastery of the materials, and knowledge of the capabilities and limitations of the instruments.
Did your time at Chanel hone your artistic skills?
Indirectly yes, it was a highly creative environment to work in. Most importantly, the talented people that I was working with are what made it so special. From working with Peter Marino's team in New York to visiting artisans or creative teams in Paris and seeing Mr. Lagerfeld's incredible show. I was constantly exposed to different creative sensibilities. It is also a house that is focused on every aspect of craft which is especially important to me in my work. Chanel supports learning and evolving creatively. While I was there, I took a digital fabrication class at The School of Visual Arts, attended talks and workshops in house and even visited Art Basel Miami.
Was there a key moment when you decided to follow your passion for the arts?
I have always been passionate about it but a turning point happened in May 2012 when I was at Frieze Art Fair in New York. I was staring at Rudoph Stingel's paintings and his exploration of texture for his carpet painting,  the concept of duality he explored had a huge impact on me.
Where do you find inspiration now?
In nature, for the details, textures and natural beauty it provides.
What is something new you learned during the pandemic?
I took an online workshop with DigitalFutures focused on DeepDesign: Architecture & 3D Neural Net. I found out about it through the Columbia Architecture Alumni Association. While the workshop was very technical, as I was learning about a new AI platform, many of the concepts explored could be applied to any creative field as it poses questions around the rise of AI and the impact it can have on agency and authorship. I strongly recommend following the talks DigitalFutures offers as they are full of incredible speakers tackling great topics about the creative world today.
You can find the DigitalFutures talks here.
Who is your favorite artist/designer/architect?
Leonardo Drew, Studio Drift, Herzog & de Meuron.
What is one building that strikes you every time?
La Pedrera's rooftop by Antoni Gaudi.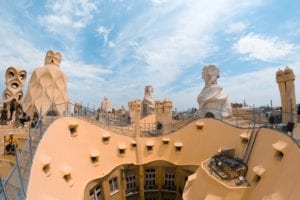 Which city awakens your creativity the most?
Tokyo.
What do you do when you are stuck on a project and need inspiration?
I go out to see art and design, go to a friend's studio, to a gallery, a museum.
What advice would you have liked to receive at the beginning of your career?
Follow what you are passionate about.
What do you miss about NYC?
Walking, walking, walking! The energy in NYC is unique. I miss all of the opportunities to do incredible cultural things. You have access to whoever you want to meet if you just make the effort to find out where they will be giving their next talk or show. However, there is a different NYC right now that will pick up again soon.
What surprises you about living in Miami?
How it has changed and evolved. There is so much culture around now that did not exist a few years ago. I was able to visit the Rubell Museum and see the impressive collection along with the Narcissus Garden by Yayoi Kusama and Teresita Fernandez's exhibition at the Perez Museum. During Miami Art Week, there were several pop ups by NYC galleries such as Levy Gorvy x Salon 94 and Marianne Boesky. And there is still so much more to see.
Something cool you have discovered in Miami?
I recently attended a candlelight open air concert with local musicians playing Mozart and Bach that took place at Palapa located in Upper Buena Vista. I also love the Center for Subtropical Affairs which has Thursday night live music outside.
What is your favorite item at home?
Branche Table by Holly Hunt.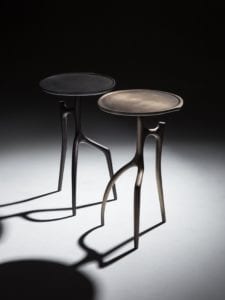 Favorite room in your house?
My balcony. I can breathe fresh air and meditate.
Favorite website?
www.art21.org
Any new discoveries?
Ingrid Donat – her bronze sculptural furniture.
If you had an unlimited budget, what artist would you collect and why?
Ursula von Rydingsvard. Her work is both monumental and detail oriented. She is one of the key women artists of her generation to follow.
What podcast are you listening to?
I recently listened to the new Chanel Connect podcast. There are 8 episodes and I am still in the process of getting to all of them. One is a conversation between Es Devlin and Pharrell. I am an admirer of both and hearing about the way Es Devlin analyzes the world especially now that we have been challenged to think differently because of the pandemic was extremely inspiring.
Favorite movie?
Inception.
Favorite book you read during the quarantine?
"Ninth Street Women – Lee Krasner, Elaine de Kooning, Grace Hartigan, Joan Mitchell, and Helen Frankenthaler: Five Painters and the Movement That Changed Modern Art", by Mary Gabriel (2018).
Favorite Instagram accounts your follow?
@nowness, @designboom, @gerrybonetti, @minimalandcontemporary and @designapplause.
Your dream holiday / first place you want to travel to after the pandemic is over?
All over Japan.
Springtime in Paris or Autumn in NYC?
Springtime in Paris for all the spots outside with the beautiful views of the city but most importantly to sit for hours at the "terrasse" of Café Marly in the Louvre.
Joyce's work is currently on view in Miami in the group show "And the Story continues" curated by Grela Orihuela at the Sagamore Hotel. This exhibition ends July 30, 2021.
Joyce standing in front of Untitled, 2021, paint on wood, etched wood, 40.5 x 47 inches
Par Excellence is pleased to be exhibiting several pieces of Joyce's art at our showroom at 344 Bowery in New York City. Please call or email us to arrange a visit.
Please follow Joyce at @billet.joyce and find out more about her art at www.joycebillet.com
Please follow @fountainhead_studios to find out about Open Studio Visits to see Joyce's studio.